One of the biggest causes for needing a winching service is, can you guess? That's right, bad weather. Rain, snow, and ice can create unbearable conditions that can wreak havoc when you're driving on the road. You can end up in a ditch and stuck in the mud during a heavy rain, or slide completely off of the road during snow or icy conditions.
Jim's Big Tow winching service is all you need.
The best option, as well as our recommendation, is to always stay at home or somewhere safe until these conditions pass, but this option is just not realistic for most people whether heading to work, school, or other important places. We at Jim's Big Tow understand these circumstances and are here for you when you need us the most.
When requesting a winching service, try to be prepared to answer any questions specific to your situation. Some questions we may ask:
·    Vehicle location – Where is the specific location your vehicle is stuck at?
·    Damage or no damage – Is your vehicle able to be driven, or will it need to be towed after being winched out?
·    Distance from road – How far from the road do you estimate your vehicle to be?
·    Vehicle position – Is your vehicle on all four tires? If not, how many tires are on the ground? Is the vehicle on its side or upside down?
This is so that we can make sure our professional tow truck driver is equipped properly and to avoid any complications when winching you out of your predicament that may be preventable. Also, be sure to let us know if this is going to require a heavy duty tow truck, as their are weight limits on our winches.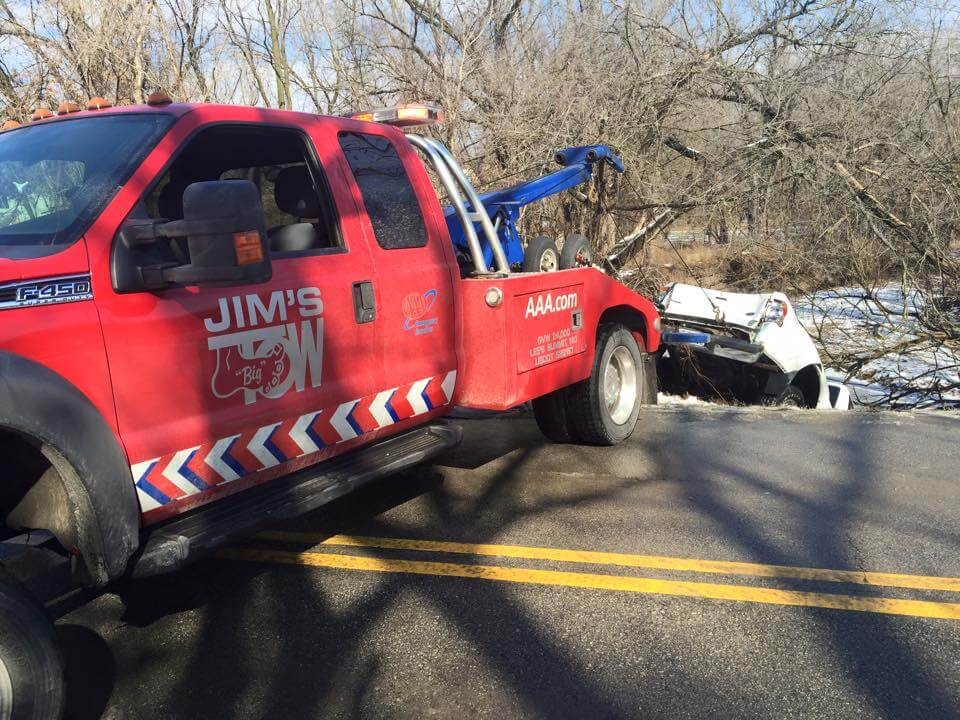 Safety First.
No matter what, safety matters to us most, not only for our tow truck drivers but especially for you as well.
If your vehicle is caught in a odd position, it is best to exit the vehicle and keep your distance from a safe place. In this situation, you need to take into consideration all factors such as, loose or slick ground that could cause the vehicle to continue sliding, extensive damage to the vehicle that could cause weak support which may allow the vehicle to roll over, and even nearby traffic that could easily lose control and end up striking your vehicle.
These are of course, worst case scenarios, but it is important to stay aware. A change in the position of your vehicle could result in a devastating injury to you and anyone else near the vehicle.
Keep us at Jim's Big Tow in mind.
If you are in our local Lee's Summit MO, Blue Springs MO, Kansas City MO, or overall Jackson County MO areas and need a winching service, keep us at Jim's Big Tow in mind and call us at 816-524-8299.