Jim's Heavy Duty Towing Services
When it comes to specialty tow truck service, most Lee's Summit and Blue Springs Missouri companies offer little more than classic car towing. However, what happens if you need heavy duty towing? There are plenty of vehicles and construction equipment vehicles that require help from time to time, and these drivers need something more than just standard cheap tow service.
One of the many ways that Jim's Big Tow saves more area drivers time and money is with a better choice in heavy equipment towing. No matter what over-sized vehicle, machinery, or other type of bulk equipment that you may have trouble with, we are the Jackson County, MO heavy duty towing company for you. With experienced tow truck drivers and all the right tools and equipment that we need, we can move any sized vehicle the simple way day or night.
Our best heavy duty towing service and drivers are the reliable choice for your needs each time. With a higher towing capacity than what most tow truck service companies can offer, we are always the dependable solution for you. With the same quality of assistance and our lowest towing service rates, we can ensure that your over-sized vehicles receive the care that they need.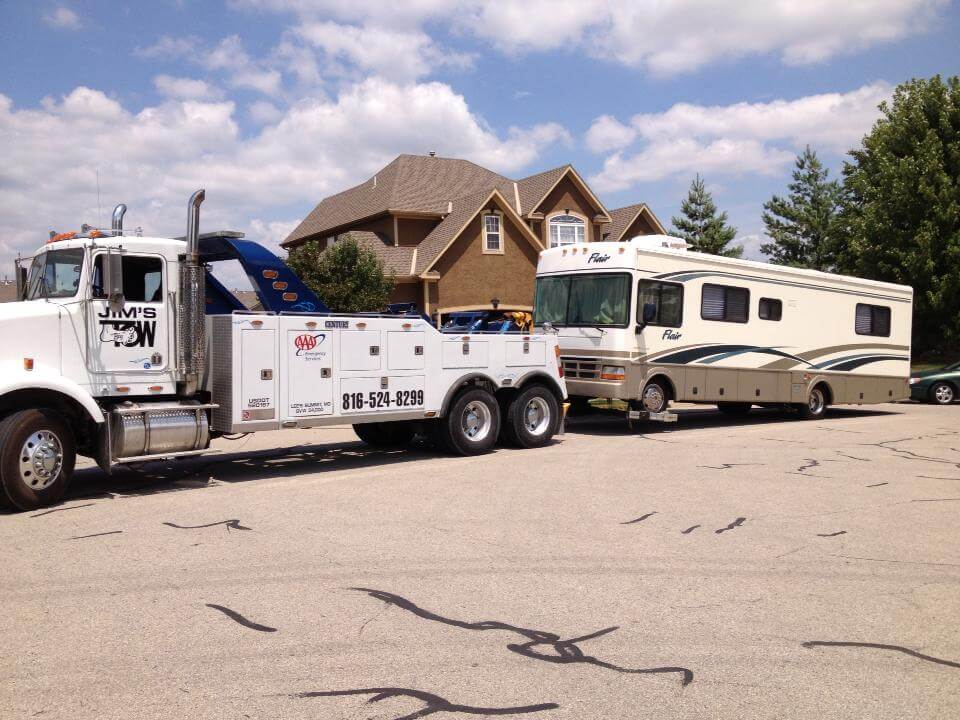 Whether you have a Bobcat with busted treads or you are towing a travel trailer that has become inoperable, we are here to help you. No matter when you experience problems, you can still benefit from our best towing service 24/7 for any vehicle you may have, including:
Semi-Trailer

Tractor Trailer

RV/Motor Home

Emergency Response Vehicles

Fifth Wheel Trucks

Boats

Construction Equipment

Heavy Duty Pick Up Trucks

Buses

Limousines

Rugged Off Road Vehicles

And many other types of large vehicles you may have!
When you cannot find a local towing service that has the equipment that you need to move your larger vehicles, you can always depend on us to help you fast! For the best in local Jackson County tow service for oversized vehicles, you can always rely on our team for better quality of service and lower towing service price each time.
We understand how difficult it can be to find towing companies that have the services that you need. Many heavy duty towing and recovery companies only offer commercial services, meaning if you are not driving a big rig or have a piece of construction machinery stuck, you are out of luck.
Other Jackson County tow companies may offer large recreational vehicle towing, but they do not have all of the proper towing tools and equipment, putting your RVs, boats, and other prized possessions at risk for further damage.
We always keep your vehicles safe!
When you need a dependable company that still keeps your towing service cost low, no matter how large your vehicle may be, you can always count on us. For the best choice in affordable large vehicle towing, simply call us first before anyone else.