With over 25 years experience in the towing industry, we at Jim's Big Tow have experienced just about any and every situation a professional tow truck driver could run into. Located in and serving Lee's Summit, Missouri as well as surrounding cities such as Blue Springs, Independence, Pleasant Hill, Lonejack, and several others, we strive to meet your towing and roadside assistance needs with fast, friendly, safe, and fair service.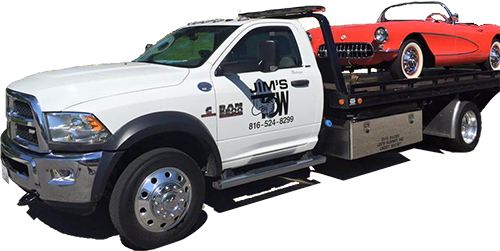 Towing and
Roadside assistance
Accident Recovery
and FlatBed Transportation
Jim's Tow is excellent! All our dealings with them have been very professional and prompt. We recommends them highly.
Knowing that I have a tow company I can trust in Lee's Summit has helped me in some difficult situations. They are quick, have great customer service and are fair. Best towing company I've worked with.
I really appreciate wrecker operator Dave who answered a AAA call to tow my car to the dealer. Dave identified the problem with the battery, which I misdiagnosed as something else. With a few turns on a wrench he fixed my issue and I learned something about how to prevent the issue in the future.
Super fast and super friendly! I had a great experience with Will, one of the night managers I think? I will definitely remember them and recommend this company! Car service companies don't usually wow me with their customer service…this company is another story! Thank you for saving the blue bug on a cold winters night!